Milligan Events actively pledged to fight against human trafficking by signing The Code this week with ECPAT-USA at an industry-related seminar hosted by Meeting Professionals International's (MPI) Washington State Chapter in Bellevue, WA.
ECPAT-USA is a member of the internationally recognized ECPAT International organization who developed the Tourism Child-Protection Code of Conduct as set of business principles adopted by travel and tourism related companies to specifically combat child sex trafficking. This action is just one example of Milligan Events' ongoing commitment to social responsibility.
Nearly 21 million people around the world are victims of modern day slavery. In the U.S. alone, at least 100,000 of those victims are American children. In the past, human trafficking took place primarily on the streets, but today, those operations have expanded with the use of technology and the internet. Traffickers move across cities and countries using air and ground transportation companies, targeting events, hotels and other venues as places to abuse and sell their victims, without the knowledge of the companies hosting events or the respective hotels and venues. As more companies sign The Code, awareness is on the rise and local law enforcement agencies have learned the necessity of protecting these children, the real victims.
"Businesses can play an important role in this vital call to action by including a strong policy against sex trafficking of children in their employee code of conduct," said Janell McGill, owner of Milligan Events. "Statistics show many buyers initiate their transactions on company time and equipment or at company sponsored events, which creates legal risks as well as risks to reputation. Discussing this growing problem and establishing more vigilant practices to detect it are paramount."
McGill further added, "As compassionate global citizens and a concerned partner in a targeted industry, we are committed to doing everything in our power to stop child sex trafficking. It is closer to home than many realize and is a pandemic that needs to be eradicated."
About Milligan Events
Milligan Events provides event management services for companies of varying industries. We collaborate with our clients to produce and manage events, conferences, trade shows, sales meetings, executive summits, road shows, product launches and virtual events for audiences ranging in size from 30 to 18,000. Milligan is a certified woman-owned business through WBENC and company honors include the Women's Business Enterprise Star Award and the Microsoft Excellence in Value Award.
More information is available at http://www.milliganevents.com
About ECPAT-USA
ECPAT-USA (Ending Child Slavery at the Souce) is the leading policy organization in the United States seeking to end the commercial sexual exploitation of children through awareness, advocacy, policy and legislation. ECPAT-USA is a member of the ECPAT International network, with offices in 73 countries.
For more information, contact Michelle Guelbart at 718-935-9192 or michelle@http://www.ecpatusa.org, or visit http://www.http://www.ecpatusa.org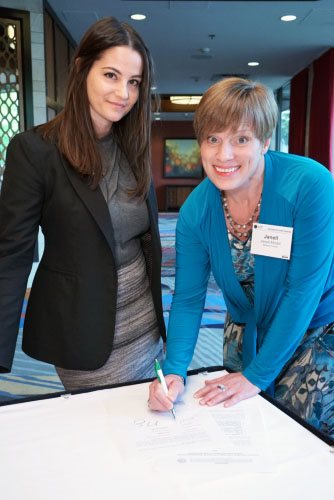 Michelle Guelbart, ECPAT USA and Janell McGill, Milligan Events
Photo credit: Alabastro Photography